In 2015, building California's first Fire Safety Town was one of the driving forces behind creating the Los Angeles County Fire Department Foundation.
The Fire Foundation currently focuses on bringing community education to youth through partnerships with our schools and libraries. Should a location become available Fire Safety Town will provide a fun, and effective fire and life safety training experience for children and adults across Los Angeles County.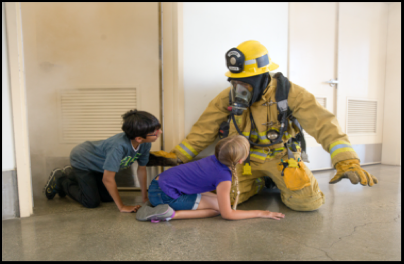 Many of the Department's educational programs and services are funded or supplemented by generous donations from the community through the Foundation. Our long-range goal includes expanding our educational footprint by providing regional educational Fire Safety Towns. This would allow the Department to provide more robust programming to students and the public, focusing on those who are most at risk.
In a report published by the Centers for Disease Control (CDC), an estimated nine million children visit an emergency room each year due to accidental injuries, with 12,000 of those children dying from those injuries. That is more deaths than all the childhood diseases combined. Their conclusion is these injuries and deaths are "predictable and preventable" through safety education.
Fire Safety Town will be a unique facility designed to provide children and adults with the hands-on experience of safety training in a controlled environment. The interactive facilities include a kitchen, a child's bedroom, where a simulation can give a child hands-on training in a controlled environment. The facility's outdoor portion will be a 5/8th scale "town" where students can practice what they have learned in the onsite classrooms. Programs are designed to address the identified needs of the communities in which they are constructed.
The Foundation Board of Directors encourages you to consider donating to support this life-changing and life-saving effort!