LACFD Community Education
Imagine waking up in the middle of the night to the sound of a smoke detector going off somewhere in your home. You smell something burning. This is real. Your first thought is of the kids, so you leap out of bed and rush to your bedroom door. When you grab the handle, it burns the palm of your hand.
What are you going to do? Unfortunately, if you and your family can't readily answer this question, it may already be too late.
Air Force Brigadier General Chuck Yeager, the first pilot to fly faster than the speed of sound, advises us to "never wait for trouble." It serves as a reminder that in many instances, trouble — in its many forms — strikes without warning. We usually can't know when trouble is going to happen, but we can be ready for it. Planning ahead, knowing how you are going to respond, and the knowledge of how to respond appropriately can save your life or the lives of your loved ones. This is why the Los Angeles County Fire Department, in partnership with the LA County Fire Foundation, provides community education to residents who want to be prepared.
Not only do emergencies happen without warning, but they also happen fast and when not prepared for they can result in tragedy. Modern building materials and furnishings have made our homes more flammable; not less. Families now have fewer than three minutes to exit a home before their lives are in grave danger. The Los Angeles County Fire Department, in cooperation with the Los Angeles County Fire Department Foundation, provides a guide to help families formulate a strategy to get out of their home in those three minutes. The Family Instructions for Rapid Escape ("F.I.R.E.") program gives residents a free guide to make their home "F.I.R.E." ready and pre-plan the quickest safe way out of the home from different rooms, even when that home happens to be in a high-rise building or apartment complex. There is even a checklist to help family members conduct a "F.I.R.E." drill to rehearse their plan. Remember, do not wait for fire to strike to think about how you will escape.
Fires can start inside or outside the home. Our beautiful state has dealt with devastating wildfires. The hot, dry "Santa Ana" winds, and dry vegetation have combined to make destructive wildfires a year-round threat. Due to the widespread nature of these events, firefighters depend on each resident to have a personal wildfire action plan. To this end, they offer a "Ready! Set! Go!" brochure to guide you through creating a defensible space around your home, retrofitting your home with fire-resistant materials, and preparing you to safely evacuate when the time comes. Instructions for assembling an emergency supply kit are included, as well as survival tips on what to do if you become trapped in your home, vehicle, or on foot.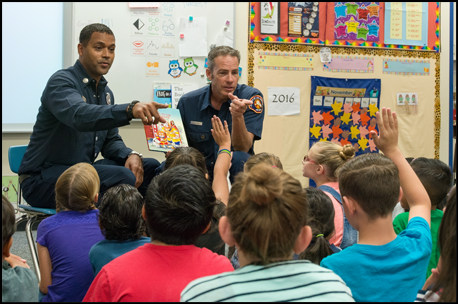 We all know that the name "fire department" implies a specialization in fire-related emergencies, but that's not the only trouble that can occur. The Los Angeles County Fire Department cooperates with our friends at County of Los Angeles Public Health and the American Heart Association to educate the public on how to perform Hands-Only CPR on"Sidewalk CPR Day." A ten-minute lesson on the technique will give you the knowledge you need to keep a cardiac arrest victim alive for a few minutes until paramedics arrive. On the annual "Sidewalk CPR Day," you can learn this technique from firefighters and medical professionals at your local library, medical facility, fire station, or another convenient location.
The mission of the Los Angeles County Fire Department focuses on the protection of the lives, environment, and property of the residents of our region. We hope you will join us in taking advantage of the opportunities to improve the readiness and the well-being of our community.
It is up to you to prepare before an emergency strikes. Get started today by making an appointment with yourself, and any people that live with you, to download one of the free resources you ha've just learned about and use it to make a plan.